The MALTESER care-instrument offer for department stores, chemists and pharmacies
Sales Displays
Bestsellers: Instrument depots for perfect manicure-pedicure-cosmetics that means sales promotion with system
Upgrade your range of personal care products with a Malteser branded manicure-depot,
high-quality materials, precise workmanship, warranty and service,
additional turnover for your P.O.S. using little space,
easy and eyecatching presentation ready for sale,
nail scissors and manicure instruments individual packed ready for sale,
individual stickers on request.
The standard equipment comes in steel. Surfaces are nickel-plated. Same products can be supplied with a gold-plated surface or in stainless steel for professional use.
Recommended Instruments for Malteser-Displays
Nail Scissors and Cuticle Scissors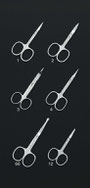 Stock No.  - description
No. 1 - cuticle scissors, bent, 9 cm
No. 2 - nail scissors, bent, 9 cm
No. 3 - nail scissors, manicure tip bent, 9 cm
No. 4 - cuticle scissors, manicure tip, bent, 9 cm
No.66 - mens' scissors, straight, 10.5 cm
No.12 - Baby scissors, curved, 8 cm
Nailfiles, Tweezers, Manicure-Instruments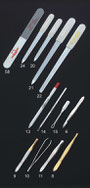 No.58 - Polishing file 4 sided
No.24 - sapphire file, fine-coarse, 13 cm
No.20 - sapphire file, fine-coarse, 11 cm
No.21 - sapphire file, fine-coarse, 16.5 cm
No.22 - Sapphire form file, fine-coarse, 16.5 cm
No.13 - stick with Gummihuf
No.14 - ear cleaner, cotton wool holder
No.15 - Blackhead remover with loop
No. 6 - splinter tweezers pointed, 8 cm
No. 9 - tweezers, slant, 8 cm, gold tip
No.10 - tweezers, narrow-bent, 8 cm
No.11 - tweezers, wide slant, 8 cm
No. 8 - tweezers, slant, 9 cm, gold-plated
Nail Nippers, Cuticle Nippers, Nail Clippers, Corn Planes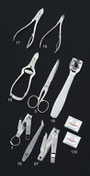 No.17 - Nail nippers, manicure, 10 cm
No.18 - Cuticle nippers, manicure, 10 cm
No.16 - Nail nippers, pedicure, 11.5 cm
No. 5 - Household Scissors, 13 cm
No.19 - Corn plane in a box
No. 7 - Nail clippers with a chain, 6 cm
No.78 - tweezers cuticle nippers, pinzaX
No.22 - Blades for Corn plane, 1 pack of 10 pieces (2 packs = No. 133)